Welcome to 911 Pest – Local Pest Control & Extermination Services
Pest Exterminator in Kitchener, Waterloo, Guelph & Cambridge
At some point, most Canadian homeowners encounter a bug or rodent problem. Whether its mice, spiders, cockroaches, moths, or any other creepy crawler, they are unwanted guests no one wants to have inside their property. In home or office, if a bug or pest is troubling you, just call our 911 Pest control professionals. Our experts have undergone rigorous training, carry latest equipment and are competent to deal with grave pest issues. We have potent, safe-for-humans and eco-friendly pest control products and equipment for 100 percent effective results.
What Makes Us Pest Control Experts
Trustworthy
We are the most sought after pest exterminators in Kitchener and nearby areas. We take "good" care of the pests.
Advance
We employ state-of-the-art equipment and effective products. No old-school practices & methods.
Comprehensive
Rats, mice, spiders, hornets, bees, cockroaches, centipedes – you name the pest and we eliminate them quickly.
Residential & Commercial Pest Control
911 Pest provides an array of pest control services to both its residential and industrial/commercial clients. Our services are available in Kitchener, Waterloo, Guelph, Cambridge & Brantford community. On-site visit and inspection allows us to identify the severity of pest infestation and customize our solution accordingly. We always keep our services and pricing transparent and ensure that our client is completely satisfied.
Just one call will rid you of all pest problems – once and for all
Seeking expert pest exterminators? Trust us! We have treated hundreds of homes and offices successfully against infestation.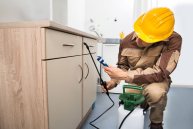 OUR HAPPY CUSTOMERS  What Our Clients Say About Us
"If you are looking for a pest control service, you should choose 911 Pest. Trust me, this company is reliable and always come up with innovative solutions. Highly recommended."
"My children were scared when they saw a giant spider on the stairs. I immediately called 911 Pest for emergency service. Within a few minutes, the technicians arrived. They put some kind of mixture on the spider to kill it. They also performed the clean-up job and their charges were also reasonable. Thank you so much 911 Pest."
"I called 911 Pest to prevent cockroaches from my kitchen. I am really impressed with their services. The entire process only took around 2 to 3 hours. You guys are really great."