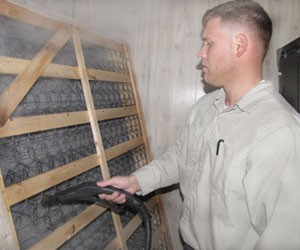 Do you wake up with rashes in the morning? If yes, then you probably have bed bugs in your house. Bed bugs can enter your home via luggage, bedding or clothing brought from outside by you or other people. If you have noticed blood spots or reddish-black fecal on your sheets, then call our bed bug exterminators immediately for assistance. At 911 Pest, our professionals specialize in bed bug control and removal services in Kitchener, Waterloo, Guelph, Cambridge and Brantford. We carry out the safest techniques to keep you and your loved ones' safe.
We provide effective and durable techniques to ensure that you have a bed-bug free home. Our bed bug heat treatment is the most effective treatment to kill bed bugs and their eggs once and for all. Apart from this, we have many other chemical treatments. All our professionals are licensed and insured and strive to deliver 100% customer satisfaction to both our residential and commercial clients.
Why Select 911 Pest For Bed Bug Extermination?
Our professionals specialize in bed bug extermination. We have been doing this business for the past many years. We have all the necessary tools and techniques to completely exterminate these pesky pests from your property.

We always stand behind our services. 100% customer satisfaction is our ultimate motto. We promise to treat your home effectively. Our professionals are trained to provide you seamless and exceptional customer service.
We always implement humane and eco-friendly bed bug extermination techniques to ensure that the environment and your health are not compromised, while we do our job.
911 Pest is a leading pest control service, proudly serving Kitchener, Waterloo, Guelph, Cambridge and Brantford areas. You can rely on us for any type of bed bug problem. Our solutions are effective and affordable.