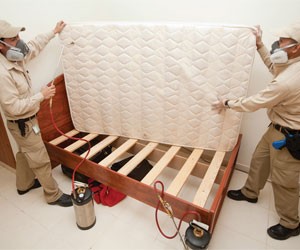 Are you looking for a professional pest removal company in Kitchener? Then look no further than 911 Pest. Our team consists of skilled and caring personnel committed to delivering professional and effective pest control solutions. We always implement tried and tested methods to ensure 100% customer satisfaction and success. We have our hands on both chemical and non-chemical solutions. All our products are environment-friendly and absolutely safe for humans and animals.
Whether you are a homeowner, or a property manager looking for a trustworthy pest control and management company in Kitchener, 911 Pest is equipped and ready to prevent your pest infestation problem in less time. Our ultimate goal is to provide you with a pest-free environment. All our professionals are fully licensed, bonded and insured, so don't worry; you and your property are in safe and professional hands.
Our Comprehensive Pest Control Services in Kitchener Include
Why Choose Our Pest Control Services in Kitchener?
We are second to none when it comes to durable and affordable pest management solutions. Our massive database of satisfied clientèle speaks volumes about our success and reputation. Our professionals are ready to go the extra mile just to meet your unique pest control needs. Our customer-centric approach allows us to customize our solutions as per the requirements of our clients. No job is too big or too small for us. Whether bed bugs deprive your night sleep or spiders scare your children, we are here to handle all your pest-related issues in Kitchener.
Features of Our Pest Control Services
Licensed, bonded and insured professionals
Years of experience in pest management industry
Same day service available whenever possible
Fair, honest and upfront estimate
Knowledgeable and skilled staff
Customized techniques to meet your unique needs
Environment-friendly pest control solutions
100% customer satisfaction guaranteed
Stay abreast with the latest technology and information