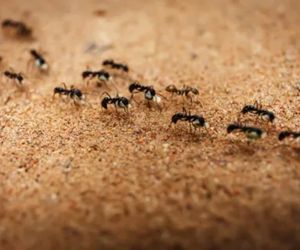 Ant infestation is one of the most annoying pest problems in Kitchener, Waterloo, Guelph, Cambridge and Brantford. Many homeowners often go for DIY methods, but such methods only provide temporary relief. Thus, if you want an effective and permanent solution to this problem, call our professionals at 911 Pest. We offer professional and durable ant extermination or removal services to help you get rid of the ants. There are around 12,000 recognized species of ants. Our professionals have extensive experience and are well aware of the behaviour and habits of ants. That's why they can deliver the kind of service you deserve.
We have the tools and techniques under our belt to get you a solution that eliminates an existing problem and ensures that the ants don't come back. Once you call us, you can just sit back and relax as our experts will handle everything. Whether residential or commercial property, we will eliminate the ants quickly and professionally with minimal disruption.
Professional and Durable Ant Pest Control Services in Kitchener, Waterloo, Guelph, Cambridge and Brantford
Our professionals have been serving high-quality ant pest control and removal services for many years. People only trust us when it comes to ants extermination in Kitchener, Waterloo, Guelph, Cambridge and Brantford communities. We take great pride in providing exceptional solutions along with excellent customer service. We employ effective insecticides to eliminate ants from your property. Rest assured, the chemical or pesticide is used under the supervision of experts, so you, your family and your pets are completely safe.
Depending on the severity of the infestation, our experts may ask you to vacate the place for around 2 to 4 hours to ensure your safety. We will ensure that the entire job is done without any disruption.
Some of the Features of Our Ant Pest Control or Removal Services Are:
Wide range of effective products and methods to offer reliable and durable service.
Licensed, bonded and insured professionals committed to keeping your family and pets safe.
Home call-out services for residential and commercial clients.
Prompt response ensures that you don't have to deal with the issue for long.
911 Pest professionals have extensive experience in ant pest control or extermination service in Kitchener, Waterloo, Guelph, Cambridge and Brantford. We won't let the ants invade and wreak havoc on your property.