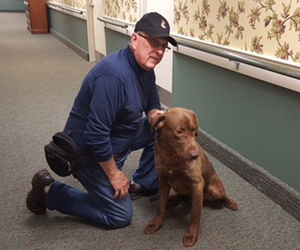 When it comes to canine bed bug detection services, people only trust 911 Pest. 911 Pest provides well-trained and experienced dogs and licensed handlers for accurate and effective detection of bed bugs. Bed bugs are really small in size and it becomes difficult to see them with naked eyes. And the key to proper bed bug removal is proper inspection. Which is why, we bring you specially trained dogs who can find the scent of bed bugs and help you eradicate them from your property.
What is a canine inspection?
At 911 Pest, our dogs can detect the hiding points of bed bugs by their scent. Our dogs are picked from one of the best canine training schools. They can sniff out both alive bugs and their eggs. Our dogs and their handlers work as a team. The handler, who is also a licensed technician helps the dog in inspection. Whenever the dog detects the scent of bed bugs, he would immediately alert the handler.
Canine inspection helps you reach the potential infested areas and exterminate them completely. You can rely on our dogs for accurate, safe and cost-effective bed bug detection.
Why Choose Our Bed Bug Dog Inspection Service?
For the past many years, our dogs and professionals have performed hundreds of inspections successfully. Kitchener, Waterloo, Guelph, Cambridge & Brantford communities rely on us for world-class bed bug detection and prevention. All our professionals are fully licensed and insured. Our dogs and handler know how to get a job done right.
Once our dog has alerted us of all the infested areas, our professionals will implement effective treatment to prevent them. We have our hands on both chemical and non-chemical treatments. So, you can expect 100% extermination of bed bugs. We also guide our clients about preventative methods to save them from future infestation. Canine bed bug detection is a modern, effective and affordable solution that delivers far better result than traditional methods. So, if you want a "good night sleep" for you and your family, call our professionals to request a free quote. One call can get rid your home or business of bed bugs.